Antibiotic Misuse and host immune response
04apr8:00 pm9:00 pmAntibiotic Misuse and host immune response8:00 pm - 9:00 pm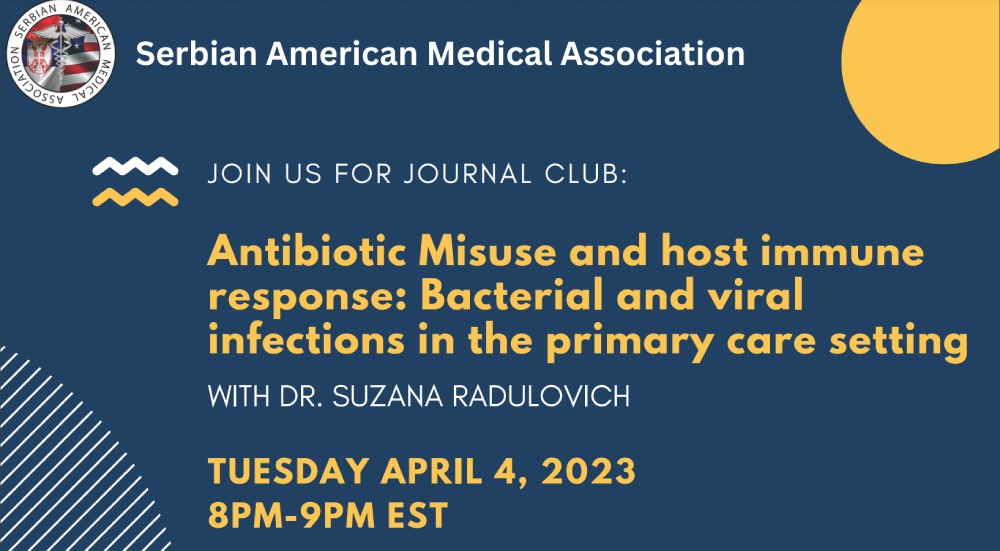 Event Details

Antibiotic Misuse and host immune response: Bacterial and viral infections in the primary care setting WITH DR. SUZANA RADULOVICH.

Antibiotic resistance is an ongoing problem that has been accelerating by the misuse and overuse of antibiotics, as well as poor infection prevention and control. 

We are inviting students, medical doctors or anyone else interested to learn more about this pressing issue in health care to join us on a Zoom presentation by Dr. Suzana Radulovich on Tuesday April 4, 2023 starting at 8PM EST.
About Dr. Suzana Radulovich
Dr. Suzana Radulovich earned a Bachelor of Science in Biology/Medicine from the University of Ljubljana, and then her MD and PhD from the University of Texas Medical Branch, including a postdoctoral fellowship in Pathology and another postdoctoral fellowship in Clinical Microbiology and Immunology.
She was a Clinical Assistant Professor of Microbiology and Immunology at the University of Maryland from 1998 – 2009, before transitioning as a Medical Laboratory Director at Nova Interventional Pain Management, Bhombhani LLC, and 20/20 Gene Systems Biolab. She is currently a Medical Laboratory Director and owner of Bala Family Practice and serves as a consultant to the State of Maryland.
more
Time

(Tuesday) 8:00 pm - 9:00 pm